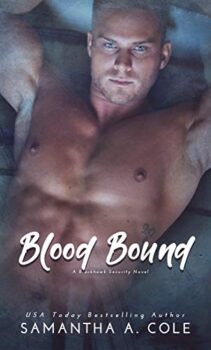 Blackhawk Security #2
July 20, 2020
Suspenseful Seduction Publishing
Available in: e-Book
Blood Bound
When Rylie Hart adopts her best friend's daughter, in the wake of the woman's untimely death, she goes from being an honorary aunt to a mother in the blink of an eye. Two years later, after kindergartner Mickey is diagnosed with leukemia, an anonymous donor is her only hope.
Twelve months after retired Marine Raider and current Blackhawk Security CEO, Chase Dixon, found himself in a position to give a little girl the gift of life, he gets to meet her for the first time. Not only does she instantly steal his heart, but so does her mother.
After Rylie receives legal documents contesting Mickey's adoption, she discovers the secret her friend took to the grave. Once again, she finds herself fighting for her daughter's life. Will Chase be able to come to their rescue one more time? Or will Rylie lose her little girl and the man she's falling in love with?