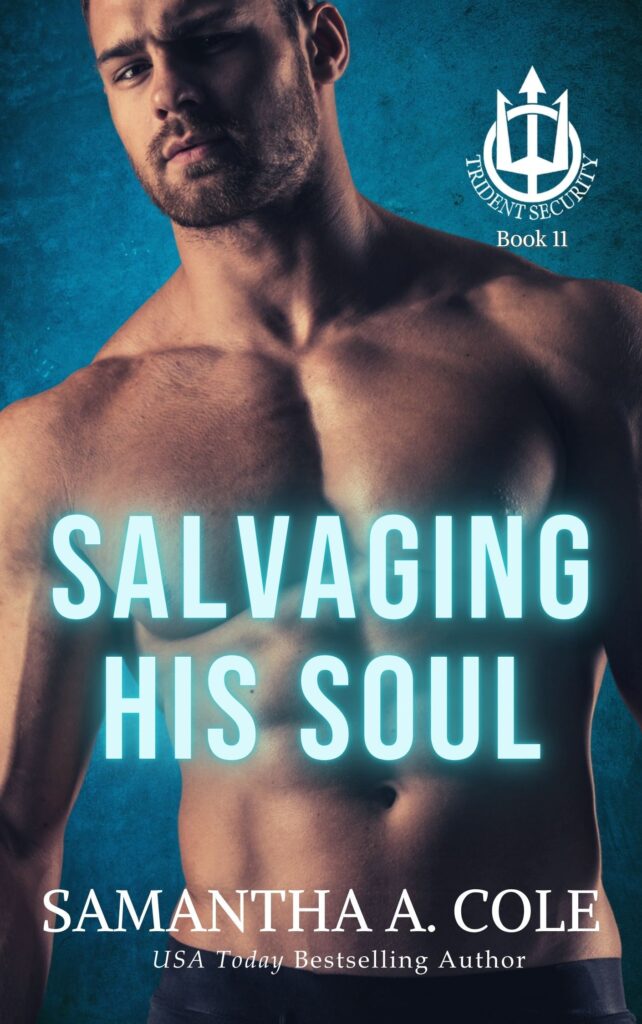 Trident Security #12
April 15, 2020
Suspenseful Seduction Publishing
Available in: e-Book, Trade Size (reprint)
Salvaging His Soul
Think you know everything about the Sexy Six-Pack? Think again. This is the story fans will never see coming. Jaws will drop and hearts will pound because nothing is as it seems.
Jase Atwood is a man with a forgotten past and an unsure future. Living on the island of Caicos, he spends his time sitting in a bar drinking, scuba diving for sunken treasure, and working as a mercenary of sorts. Brie Hanson has lived on Caicos since she was ten. After her father's death, she took over Daddy-O's, his bar/restaurant popular with tourists and locals alike. Her three-month relationship with Jase has been just for sex—no dates, no getting involved in each other's lives, and no letting their emotions rise to the surface. However, when her sister, Nadine, disappears, Brie's lover steps in to help find the missing woman. Unbeknownst to either of them, Jase's past and present are about to collide. Will it destroy their future, or will it save more than just Nadine's life?
***The Trident Security series contains elements of the BDSM lifestyle, sensual romance, nail-biting suspense, and happily-ever-afters.
Originally published September 2017 in trade paperback and eBook.
Excerpt:
Blinking at the morning sun slipping through the window blinds, Jase stretched the kinks out of his muscles. The aroma of fresh coffee reached his nose as he rolled over to find the other side of the bed empty. According to the bedside clock, it was a little after 9:00 a.m. It still amazed him how well he slept in Brie's bed, but he'd rather believe it was because of the feather mattress and pillows, and not the woman who snored softly and adorably in her sleep. They'd gone into this . . . relationship—or whatever the hell it was—with a clear and concise agreement. That was one of the things he liked about the BDSM lifestyle he'd been introduced to by a friend eighteen months earlier. Negotiations and verbal or written contracts took the guesswork out of any sexual relationship. He and Brie knew just where they stood with each other. They were friends with benefits, nothing more.
Throwing the sheets off his naked body, he stumbled to the bathroom and made use of the toilet. After washing his hands, he searched the bedroom floor and found his shorts near the closet door. With his T-shirt nowhere in sight, he made his way out to the open floor plan of the apartment, absentmindedly running his hand over the scar from a bullet wound on the left side of his ribcage. Brie was sitting at the kitchen table, reading the news on her laptop, just like she did every morning he slept over. Her feet were up on the chair, tucked in, with her thighs against her chest. He grinned when he saw she was wearing his missing shirt and had it pulled over her knees. It was big enough on her that it was barely being stretched. He kissed her on the top of her blonde head. "Morning."
Her smile was radiant as she glanced up at him. "Morning. Coffee's all set for you. I made that Colombian mix you gave me a few weeks ago."
"Excellent." He'd gotten it straight from the local source when he'd been in the country on a case. He'd been contracted to check out a possible connection to a money laundering scheme for Ian Sawyer, his occasional boss at Trident Security in Tampa, Florida. Jase couldn't take any cases within the continental United States, and he avoided the US Virgin Islands and Puerto Rico if possible. It was far too risky for him to be in any part of the USA. He was constantly looking over his shoulder no matter where he was, but he was less likely to run into someone who wanted to kill him on foreign soil. He took whatever jobs Sawyer and a few other security companies and black-ops agencies sent his way. Once in a while, he even took the occasional bodyguard job for businessmen going into dangerous areas of either Central or South America where there was always the threat of American, Canadian, or British kidnappings for ransom.
As he grabbed a clean mug from the dish rack, Brie stood and opened the refrigerator. "Are you hungry? I've got eggs, veggies, and cheese for omelets."
Jase silently pushed away the thoughts of domestic bliss from his mind. That was for other people . . . definitely not for him. And Brie didn't want anything other than what they already had, not that he could give her more. "Actually, I've got to hit the road," he lied, taking a sip of the delicious black coffee. "I promised Jacob I'd help him with a scuba run if I was back on the island in time." That part was true, but he didn't have to be at the dock until 11:00 a.m. "But thanks."
Instead of making herself an omelet, she pulled out a container of cubed cantaloupe and melon. When she placed it on the counter, he set his coffee mug next to it, then grabbed the hem of his shirt, pulling it up and over her head. As he'd suspected, she was naked underneath.
"Hey!" Brie cried in feigned protest as she was left standing in the kitchen in her birthday suit. He grinned, knowing, by now, she was comfortable enough with her body around him not to be mad or embarrassed. Outside of their little cocoon though, he knew she was always silently comparing herself to thinner women. She had delectable curves in all the right places, and yet, had no idea how many men lusted after her in the bar each night. She laughed off their advances as harmless flirting, telling them they needed glasses or had had one too many, jokingly adding that she might have to cut them off. If she only knew how most of the men, and some of the women, who visited her establishment, couldn't keep their eyes off her ass. And the rest of her was just as gorgeous as her posterior. High, perky tits, tantalizing hips and thighs, dancing green eyes, and a beautiful, yet slightly asymmetrical smile combined to make an enticing package.
Tossing the shirt onto a chair, he put his hands on her waist and picked her up, setting her on the counter after pushing the mug and fruit out of the way. Her voice became husky for him. "Jase, what are you doing?"
He pushed her knees apart and squatted in front of her. "I decided to have breakfast after all."
Copyright ©2017 Samantha A. Cole
All Rights Reserved.
back to Top