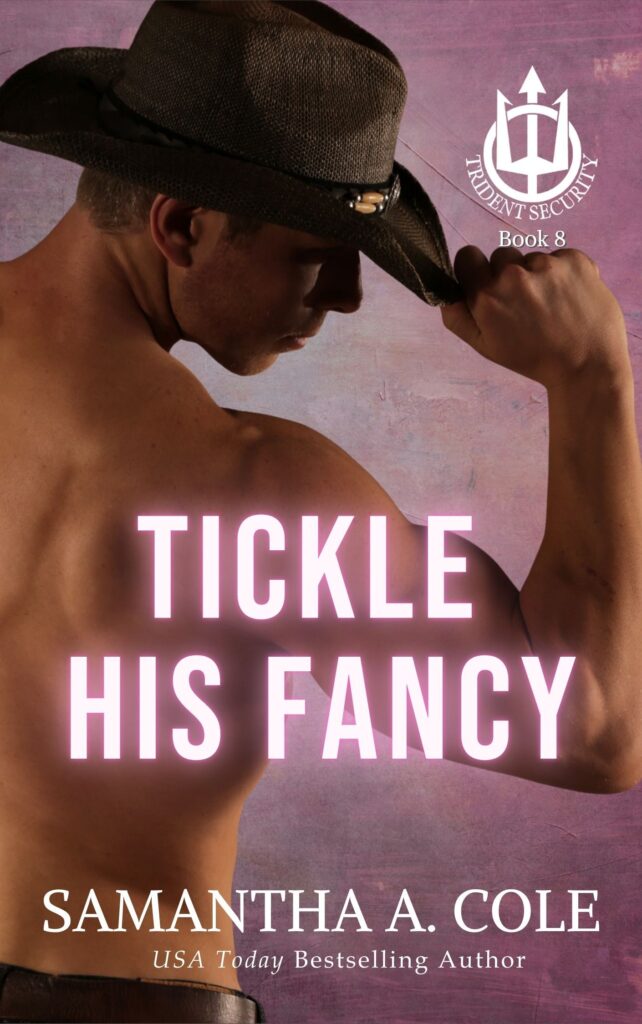 Trident Security #10
August 17, 2016
Suspenseful Seduction Publishing
Available in: e-Book, Trade Size
Tickle His Fancy
Includes a BONUS chapter!
All around him, Brody "Egghead' Evans" Trident Security teammates have fallen in love and gotten their happily ever after. Ironically, they had always thought the charismatic Dominant would be the first one to fall—not the last. While helping his boss's fiancée find a new bakery for their wedding cake, he finds himself drooling—not over the delicious confections, but the sweet baker who'd created them.
The lone survivor, Francine "Fancy" Maguire's world was destroyed when her husband and unborn baby perished in a horrific car accident. Three years later, she is finally shedding the dark shroud she was existing under and starting to live once more. When a handsome customer takes an interest in her, he sparks something deep within her that she never expected to feel again. But will she dare to give love another try?
With a killer on the loose and an unknown vandal targeting Fancy's business, Brody finds plenty of reasons to keep her close. Can he break through the steel barrier she has wrapped around her heart? Or will he lose her before he can convince her to take a second chance on love?
***The Trident Security series contains elements of the BDSM lifestyle, sensual romance, nail-biting suspense, and happily-ever-afters.
***The books of the Trident Security Series can be read as stand-alones, however, for optimum enjoyment they are best read in order.
The Dom sat in his car, staring at the entrance to the club. The submissive bitch should be coming out any time now. Her dominant boyfriend was working at the hospital, and, instead of being a good sub and staying home on a Monday night where she belonged, she'd sneaked out and come to the BDSM club, The Devil's Dungeon. It wasn't one of the high-scale, private ones because she had been banned from The Covenant and was only allowed in Heat with her Dom. Well, tonight she was going to get what she deserved for being such a naughty slut.
He thought back to all the gossip he'd been hearing the past week and a half. Word of the missing Christie Lawrence, aka Clementine, had spread among the members of several BDSM clubs, including The Covenant, and the few people who'd met her before were worried about what had happened to her. He was the only one on this earth who knew what did happen to her. She'd screamed, cried, begged to be let go, and, in the end, she'd begged to die. And he had been all too happy to oblige her.
Clementine had stayed alive longer than the first sub he'd brought to his lair. That bitch had been new to the lifestyle, and while he had seen a blurb in the newspaper about her disappearance, it seemed as if no one had connected her to the munch she'd gone to. That's where the Dom had met her. There were munches at least once a month in various places in and around Tampa. They were events where newbies interested in BDSM could meet and talk to those experienced in the lifestyle without play. Introducing her to his world had been fun at first, but she hadn't lasted long. It was then he'd decided to seek out more experienced subs.
If he were honest with himself, he desperately wanted to tell everyone what had happened to Clementine and the other bitch, and where their destroyed bodies were located—in the middle of the Gulf of Mexico. But that would be the end of his fun and games. This time, however, he planned on leaving Heather Davis where she would be eventually found. If he couldn't let people know who was putting these whores in their place, at least he could let them admire his work.
The unmarked door to The Devil's Dungeon opened and out walked his intended target wearing her slutty clubwear. Her hair was messier than when she went in, and her face was flushed. It was clear she'd played—and not with her Dom. Well, you bitch, you're going to be playing a lot more over the next few days.
Starting his vehicle, he waited for her to climb into her little sports car and then followed her home.
Copyright ©2016 Samantha A. Cole
All Rights Reserved.
back to Top