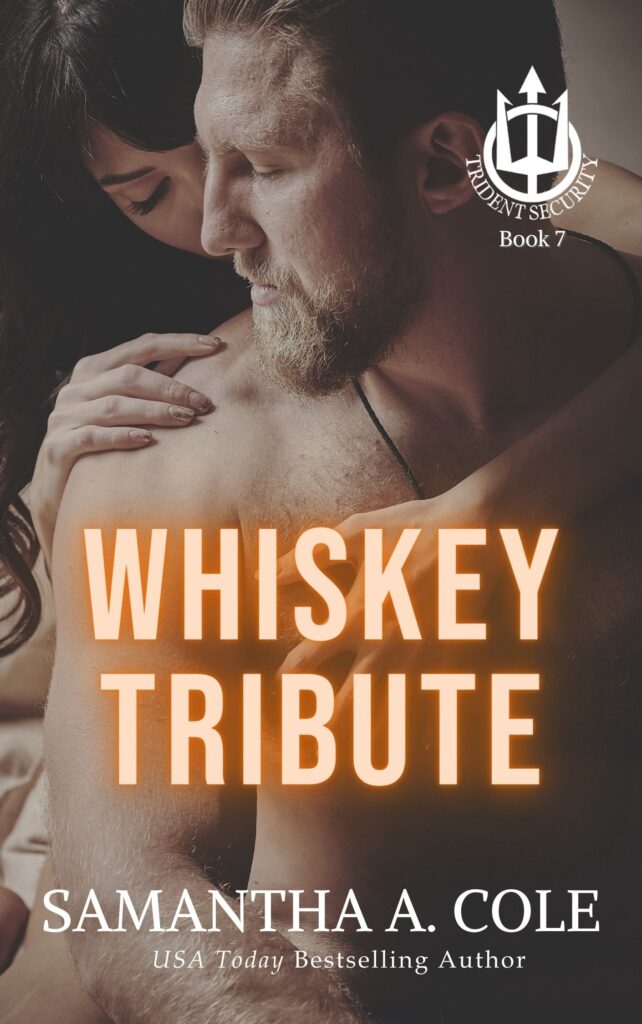 Trident Security #7
May 4, 2016
Suspenseful Seduction Publishing
Available in: Audio, e-Book, Trade Size
Whiskey Tribute
Curt Bannerman never thought he'd have to follow through with a promise to ensure his best friend's wife and children were taken care of in the event of Eric's death after the two men retired from the Navy SEALs. But an assassin made the promise a reality. Eighteen months later he's still keeping an eye on the family, however, somewhere along the line his feelings for the pretty widow have changed.
Dana Prichard had been both a mother and a father for her children during her husband's multiple deployments, but once Eric retired, she thought those days were over. Now she has to do it with no chance of him ever coming home again. While his SEAL teammates have been there for her since Eric's death, one of them stands above the rest. The one man who is slowly invading her dreams.
They started as friends, but now, both want more. Can they move past the feelings that they are betraying a dead man by wanting each other? Or is Eric always going to stand between them?
***The books of the Trident Security Series can be read as stand-alones, however, for optimum enjoyment they are best read in order.
The next two days flew by in a blur. Eric had always said he didn't want to be waked at all. He hated them. Dana and best friend knew they would only be planning a funeral, followed by a party . . . not a morose reception, but a fucking party. He'd wanted everyone to celebrate his life, not mourn his death. Family, friends, and Eric's Navy brethren began arriving in droves on Monday while Curt escorted Dana to the funeral home to make all of the arrangements for Tuesday's service. SEAL Team Four was stateside and, those who could, boarded a flight to Iowa, along with a Navy honor guard for the gravesite service after the mass at the family's church.
Curt stood by Dana's side throughout the entire ordeal. He'd been a godsend for her and the children. After barely getting through the funeral without falling apart, they invited everyone to attend the "celebration" at a local pub Eric and Curt liked to go to for a beer and a ballgame every once in a while. There were many men dressed in their formal Navy blue uniforms mixed in with the civilians. It was a testament to the brotherhood Eric had belonged to.
"Can I have everyone's attention, please? Listen up!"
Dana glanced up from cutting Amanda's chicken fingers into little bits. Ian Sawyer was standing on a small stool so he could be seen by everyone in the place. At the bar next to him, Devon, Brody, Marco, Jake, and Boomer were helping the pub owner and bartender with a case of Jameson's whiskey. She knew what was coming, having attended several SEAL funerals in the past. There would be two toasts. The first one included everyone—family, friends, and teammates. The second would be later on, reserved for Eric's brothers-in-arm only. It was a team tradition which had started a long time ago and was repeated, without fail, at every Team Four funeral.
There were a bunch of whistles and shouts of "quiet" before the crowd of one-hundred-plus people hushed. With the help of the waitresses, dozens of plastic shot glasses filled with whiskey were passed out to everyone over the age of twenty-one. For the minors and those who didn't drink, a few were filled with cola, so they could still participate.
Bringing a small tray of shots over to the table, Curt made sure Dana and her kids had the appropriate drinks. As the glasses were passed to those who hadn't received one yet, Ian took the one Devon handed him. "For those of you who don't know me, I'm proud to say I served with Eric for many years—it was a privilege to have him on my team. We have a tradition on our team to toast the fallen with a whiskey tribute, and I invite you to join us for the first one. His teammates will have another one later, in private. As the ranking retired officer here, I was asked to lead you in this first toast. Does everyone have a glass?" When he was certain all had received one, he lifted his own in the air. "Eric 'Wabbit' Prichard. It was your team's honor to serve with you and to call you our brother. Your loyalty to your country, your team, your family, and your friends will never be forgotten. You served your country with honor and integrity, the same way you lived your life. Today, we saluted you, and then your fellow SEALs proudly slammed our tridents into the top of your casket as a sign of our undying gratitude and respect. Your family is our family, and we will always be there for them since you no longer can be. Take care, my brother, until we meet again."
There wasn't a dry eye in the place when all the SEALs shouted out "hoo-yah" before they downed their shots.
A little over an hour later, most of the local folks had left, and Dana was saying goodbye to those who remained. Her mother and Jenn Mullins were gathering up the children so they could all head back to the house. Jenn was Ian's goddaughter, and her father had been on Team Four, as well. The team had watched her grow since she'd been a baby and she called a lot of them "Uncle." Her parents, Jeff and Lisa, had been murdered six months ago, and Jenn was just beginning to emerge from her dungeon of angst. She now lived with Ian in Tampa, while going to college nearby. The sweet girl had been entertaining the kids all day, and Dana was grateful.
Scanning the room, she saw Curt talking to Marco while drinking another soda. She knew he was staying sober so he could help her, but she was worried about him. He hadn't broken down yet, trying to be strong for her, and she knew it was only a matter of time before his grief hit him square in the chest. She wanted that to happen while he had his teammates around to watch his back.
Spotting Ian and Devon chatting a few feet away from her, she stepped over to them. Ian lifted his arm around her shoulder and pulled her into his side. Placing a brotherly kiss on her forehead, he asked, "How are you doing, Dana?"
"As good as I can be at the moment, but I need you to do me a favor."
"Name it."
She sighed. "I'm going to be heading home in a bit with my kids and the grandparents. Jenn is coming, too, for a little while. Can you make sure Curt stays here with you, please?" Devon raised an eyebrow at her, but she continued before he could ask any questions. "He needs you guys right now. He's been a rock for me since he got here, but I can tell he's holding back. Get him drunk and watch his six . . . do what you guys do for each other at times like this. You can drop him off later—he's been crashing on the couch. Even though they're coming back to the house for a while, my mom and in-laws have been staying at the bed-and-breakfast in town, and the kids will sleep like rocks tonight. Just call my cell phone when you're on your way, and I'll open the door."
"Are you sure?" Ian asked. "We can throw him in a bed at the hotel. No big deal."
Shaking her head, she glanced over at the man in question. "No. It's okay. Bring him to the house. He's staying the rest of the week to help me with all the paperwork with the V.A. and other stuff. You can pick Jenn up, then, and bring her back to the hotel."
"We'll take good care of him. I promise. And if you need anything, you have most of our numbers, right?"
"I do." She swallowed a sob that wanted to burst forth. "Thanks . . . for everything. I . . . I couldn't have gotten through this without all of you here."
Ian pulled her into a full hug, wrapping both arms around her. "That's what we're here for, sweetheart. Eric was a brother, and we take care of our own."
"I know you do."
Copyright ©2016 Samantha A. Cole
All Rights Reserved.
back to Top