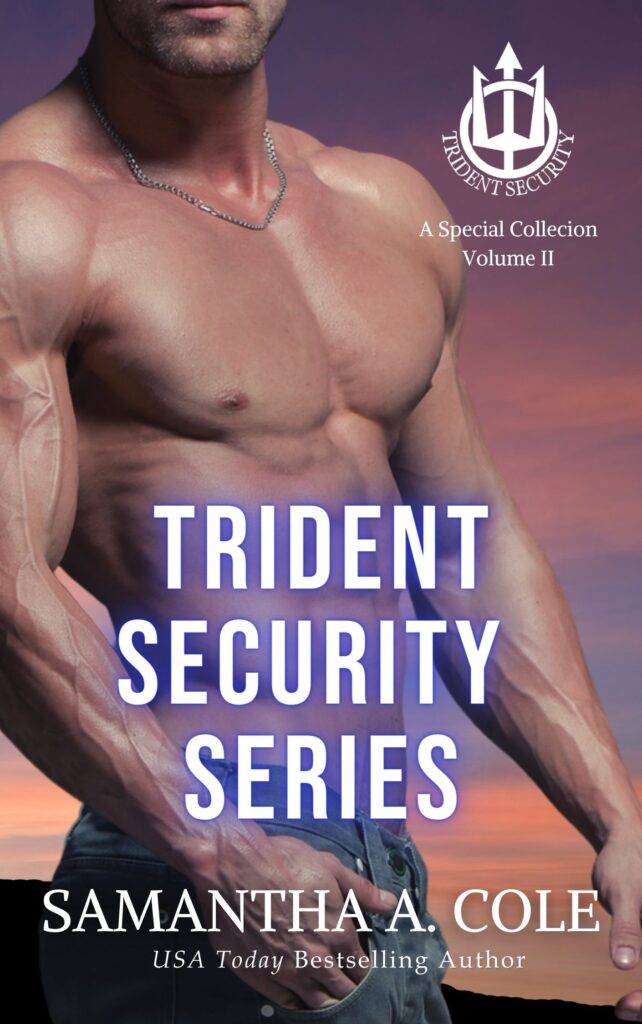 Trident Security
May 16, 2020
Suspenseful Seduction Publishing
Box Set
Available in: e-Book
Trident Security Series: A Special Collection Volume II
**A Special Collection of Books 4 & 5 and Novellas 3.5 & 5.5 of the Trident Security series.
Not Negotiable (Book 3.5)
(originally published October 2015 in eBook and trade paperback)
Shelby Whitman has had a huge crush on the one man who deserves more than she can give him, so it's best to keep him at arm's length.
Dominant Parker Christiansen has been craving the perky, petite submissive ever since he laid his eyes on her, but she's turned down his every attempt to negotiate with her.
When Parker finds out Shelby's hiding a devastating secret from her friends, he steps in to help, and this time he won't take no for an answer. Can he convince her he's fallen in love with her, and if they only have this time together, they should make the best of it?
Topping the Alpha (Book 4)
(originally published November 2015 in eBook and trade paperback)
Getting involved with your brothers' friend and employee is never a good idea, but after being dominated by Jake Donovan for one night, Nick Sawyer wants more. A Navy SEAL, Nick's been the alpha in every relationship he's ever had, but now finds himself craving to submit to Jake again. The problem is Jake's determined that will never happen.
Thrown together to help a girl in danger, Nick starts breaking through Jake's defenses, but when things go awry, Jake must confront the ghosts from his past before he can ever think about a future. Nick just hopes that future includes him.
Watching From the Shadows (Book 5)
(originally published April 2016 in eBook and trade paperback)
Baby? What baby? Marco DeAngelis is determined to stay single and childless forever. But sometimes life gives you what you never knew you wanted.
After months of trying to contact Marco, Harper Williams finally admits she'll be raising her child alone, since he won't return her calls.
When Harper is violently attacked, the two are, reluctantly, thrown together again and become embroiled in a web of lies and deceit. Will they lose their baby, each other, and their lives?
Whiskey Tribute (Book 5.5)
(originally published May 2016 in eBook and trade paperback)
Curt Bannerman never thought he'd have to ensure his best friend's wife and children were taken care of in the event of Eric's death, a promise made before the two men retired from the Navy SEALs. But an assassin made the promise a reality. Eighteen months later, he's still keeping an eye on the family, however, somewhere along the line his feelings for the pretty widow have changed.
Dana Prichard had been both a mother and a father to her children during her husband's multiple deployments, but once Eric retired she'd thought those days were over. Now, she has to do it with no chance of him ever coming home again. While his SEAL teammates have been there for her since his death, one of them stands above all the rest; the man who is slowly invading her dreams.
They started as friends but, now, both want more. Can they move past the feelings they are betraying a dead man by wanting each other? Or is Eric always going to stand between them?
"A delicious mix of domination, submission, and suspense." ~ Nicole Edwards, NY Times and USA Today Bestselling Romance Author (for Topping the Alpha)
"One devastatingly deadly Dominant meets one tiny baby…his baby. Oh, I loved this hero! Nonstop suspense, sinfully sensuous sex scenes, and a captivating romance—this book has it all!" —New York Times and USA Today Bestselling Author, Cherise Sinclair (for Watching From the Shadows)