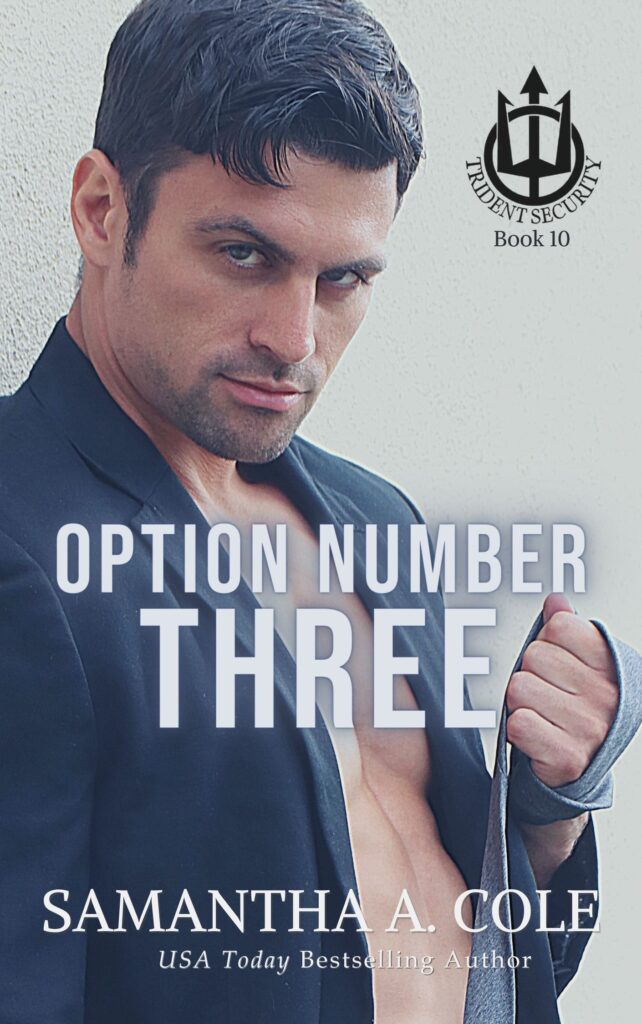 Trident Security #9
February 26, 2017
Suspenseful Seduction Publishing
Available in: e-Book, Trade Size
Option Number Three
What happens in Vegas, stays in Vegas … or does it?
Dominant Mitch Sawyer has been lusting after submissive Tori Frejya since she first stepped into the private BDSM club he owns with his cousins. But he had waited too long to approach her, and she now belongs to someone else, while he watches from afar. When Tori asks him for a favor that involves going to Vegas with her and Dominant switch, Tyler Ellis, Mitch can't say no.
After a night with Tori and Tyler that goes way out of his comfort zone, Mitch is left confused and unsure for the first time in his life. He now faces three options—but will he have the courage to choose the one he never knew he wanted?
***The books of the Trident Security Series can be read as stand-alones, however, for optimum enjoyment they are best read in order. They contain elements of BDSM and are for mature audiences only.
Laughing hard at something funny Mitch had just said, the threesome stumbled out of the elevator into their suite. Ty grabbed Tori around the waist to keep her from toppling over in her high heels. They'd had a great time at the blackjack tables, each one winning. On the way to cash in their chips, the men had to keep shushing Tori because she'd announced to everyone she passed that she won $2200. She was so adorable when she was a little tipsy. As she always did, she'd nursed her glasses of wine and drank water in between, but she was starting to feel the effects of what she'd imbibed. Ty, on the other hand, had stopped drinking the whiskey and switched over to water after they'd gotten the first round of drinks at the table. He exchanged his almost full glass of the rich amber liquor for a bottle of water, knowing he would need his wits about him later to play if Mitch agreed to join them.
Wrapping her hands around his neck, she kissed him, and he was only too happy to kiss her back. Mitch brushed past them, and Ty wrenched his mouth from Tori's. "Mitch." When the man looked back over his shoulder, Ty spun Tori around, pulling her flush against his torso. "I think my subbie needs to thank you properly for helping her win all that money tonight."
As Ty gathered the material of Tori's dress in his hands, sliding the hem up her legs, Mitch's eyes flared with desire. Despite the few drinks the man had downed, there was no hiding the erection growing in his dress pants. Alcohol hadn't slowed him down one bit.
Mitch's gaze flashed from Tori to Ty's face. "You sure?"
"Wouldn't have said anything if I wasn't."
The man looked at Tori again. He stepped closer and cupped her cheek gently. "What about you, little subbie? Do you want me as a third with you and your Master tonight?"
Despite Tori's hesitation, her breathing and heart rate increased. Ty knew if he put his hand between her legs, he'd find her wet and needy. He whispered in her ear, "The decision is all yours, pet. But look how much he wants you. Let us both please you tonight."
She sucked in a shuddering breath. "Y-Yes, Sir . . . Sirs. I want Master Mitch to join us tonight."
Leaning down, Mitch captured her mouth with his. Holding her head in place, he took what he wanted and, damn, if that didn't make Ty harder than the granite tiles they were standing on. Mitch eased up and kissed Tori on the tip of her nose. "Thank you, little one." His gaze darted to Ty's. "Lead the way."
Copyright ©2017 Samantha A. Cole
All Rights Reserved.
back to Top