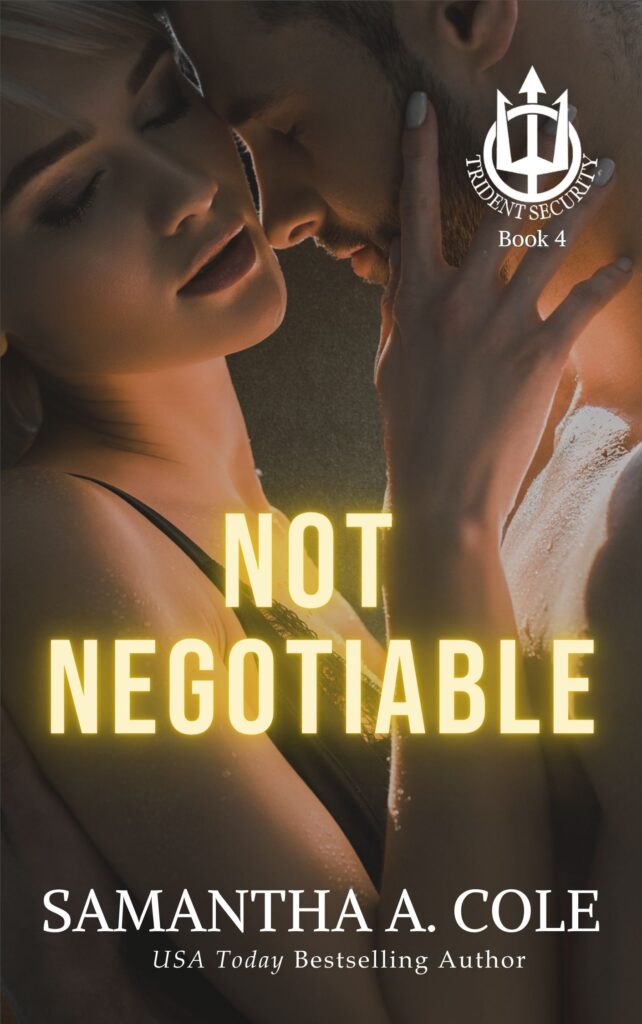 Trident Security #4
October 10, 2015
Suspenseful Seduction Publishing
Available in: Audio, e-Book, Trade Size
Not Negotiable
Shelby Whitman has had a huge crush on the one man who deserves more than she can give him, so it's best to keep him at arm's length.
Dominant Parker Christiansen has been craving the perky, petite submissive ever since he laid his eyes on her, but she's turned down his every attempt to negotiate with her.
When Parker finds out Shelby's hiding a devastating secret from her friends, he steps in to help, and this time he won't take no for an answer. Can he convince her he's fallen in love with her, and if they only have this time together, they should make the best of it?
***The Trident Security series contains elements of the BDSM lifestyle, sensual romance, nail-biting suspense, and happily-ever-afters.
***The books of the Trident Security Series can be read as stand-alones, however, for optimum enjoyment they are best read in order.
After flushing the toilet, Shelby reached for the mouthwash. Her stomach was reacting violently to the second round of chemo and she was having trouble keeping food down. Someone from the pharmacy should be there soon, bringing her new prescription for anti-nausea pills. She'd forgotten to pick them up after leaving the treatment center two days ago and had been regretting it since late this afternoon. The first round of chemo hadn't affected her this way, but she was told to expect a cumulative effect as her treatments went on. Thankfully, the pharmacy was open late tonight and they had a delivery service.
Staring at her reflection in the mirror, she winced. Hopefully, she'd get a good night sleep tonight and look better in the morning. If anyone saw her now, they'd think she had the flu or something. Although someone with the flu probably looked better than this—red eyes, pale face, hair sticking out in all directions, and wearing her favorite flannel pajamas because she was so cold. Thinking back, this was worse than when she'd receive radiation following the removal of her ovaries and the hysterectomy six and a half years ago. At least she thought it was.
As she shuffled out to the living room couch, the doorbell rang. Hoping it was her prescription, she hurried to the door and opened it without checking to see who it was. Damn. She should have peeked through the peephole first. "Parker? W-what are you doing here?"
The man raised an eyebrow and crossed his arms. Oh, shit. He was in full Dom mode, complete with his club leathers and boots. The snug T-shirt emphasized his strong shoulders and chest. From the expression on his face, it was obvious something was wrong.
"Checking on you. And from the look of things, I'm glad I did. Why haven't you been to the club lately? You've been sick this whole time?"
Shelby tried to downplay her illness. "It's just the flu. I'll be fine in a few days."
His frown said he didn't believe her. "The flu doesn't last two weeks, Shelby."
"Well, I had some other stuff I was taking care of last week. I'll be back soon. Thanks for stopping by." When she started to shut the door, he stuck his foot out, preventing her from closing it all the way. She saw movement over his shoulder and realized the driver from the pharmacy had arrived.
"Ms. Whitman?"
She sighed as Parker turned to face the college-age deliveryman. "Yes, I'm Shelby Whitman. Thanks for bringing it over."
"No problem." He handed her a clipboard. "Sign here, please. And Mr. Carlson said to tell you he sent over a bag of ginger candies and some ginger tea—no charge. He said that a lot of his patients on chemo find they help with the nausea when combined with the medicine."
Shelby winced when Parker's jaw dropped, eyes popped, and fists clenched. Shit. Signing the form, she handed it back to the driver who clearly didn't realize he had dropped a bomb between the other two people. "Thanks. Wait a second, please."
She was about to grab her purse for a tip, but Parker's growl stopped her. He pulled out his wallet, handed the kid a twenty, then took the pharmacy bag. "Thanks. I'll make sure Ms. Whitman uses all of it."
Happy about the big tip, the driver waved as he jogged to his car. "No problem. If you need anything else, give us a call."
Shelby tried to take the bag from Parker, but the frown on the Dom's face had her backing up into the foyer. Fuck, she was in so much trouble.
Copyright ©2015 Samantha A. Cole
All Rights Reserved.
back to Top